Our Dentists

Dr. Shuxin Liu, D.M.D.
Dr. Shuxin Liu obtained his Bachelor of Stomatology from Tianjin Medical University in 1996 and Doctor of Dental Medicine from Boston University in 2013. Among over 200 graduates, he was selected as one of the very few High Honor Recipients for his achievements.
Dr. Liu has been active in both public and private dental practices for over 24 years, serving the community with both general dentistry and advanced dental practice such as cosmetic dentistry, implantology and dental surgery. His colleagues describe him as caring, passionate, and persistent; qualities which have led him to achieve exceptionally high professional standards.
In his spare time, Dr. Liu enjoys reading, swimming, and cooking for his family. He considers himself very fortunate to have made Mississauga his home and loves to give back to this great community.
Dr. Liu is a member of good standing with the Royal College of Dental Surgeons of Ontario, the Canadian Dental Association, and the Ontario Dental Association.

Dr. Phoenix Zhang, D.D.S.
Dr. Phoenix Zhang obtained her Bachelor of Medical Science from Western University and her Doctor of Dental Surgery from The University of Toronto.
Passionate about comprehensive patient-centered care and education, Dr. Zhang loves spending time to get to know her patients in order to tailor care to their individual needs and concerns and to empower each patient to reach their oral health goals. She believes firmly in integrity and empathy and strives to deliver top quality treatment while ensuring patients feel comfortable and cared for during their visit.
Outside of the office, Dr. Zhang has an avid passion for music. Being trained in both the piano and oboe, she enjoys performing and teaching students when time allows. Additionally, she is always looking to share her latest culinary and baking projects with family and friends.
Dr. Zhang is a member of good standing with the Royal College of Dental Surgeons of Ontario, the Canadian Dental Association, and the Ontario Dental Association.

Dr. Frank Young, D.D.S.
Dr. Frank Young was originally from Taiwan. He graduated from Dental School in 1989, worked in Johannesburg and Taipei for 10 years. Then he came to Canada with his family. Shortly after his arrival, Frank studied at the University of Toronto and Western for clinical training, wrote Canadian Dental Board Examination in 1999.
Frank had worked in North York and Timmins for 14 years, then he joined Credit Valley Dental in 2014.
Dr. Frank Young loves dentistry and never stops learning. He has spent more than 2000 hours in advanced continued education since the year 2000. He also has completed a one-year Master Clinician Program in Implant Dentistry recognized by the University of Loma Linda. Frank currently holds several fellowships in Orthodontics, Dental Implant, Laser Dentistry and he is currently working toward his Master in American General Dentistry.
Frank was also certified as the senior instructor of the International Association for Orthodontics.
Frank and his wife, Paulina, live in Oakville. Their only son is studying at the University of Waterloo. In his spare time, Frank loves playing the cello, badminton, enjoys reading and traveling.

Dr. David Leung, DMD, Cert. Perio, FRCD (C)
Dr. David Leung was born and raised in Toronto, Canada. He attended Upper Canada College for high school and then went to study Biochemistry and Economics at New York University.
He then completed both his dental school and Periodontics Residency at the University of Pennsylvania and graduated in 2006.
He is happily married and enjoys traveling, watching football, and cooking for friends.
His passion is to help others with his expertise and restore not only their dentition but also their self-esteem.
Our Staff


Mariana
Mariana graduated from the Dental Hygiene Program in 1998. To further her education, she also completed the Restorative Dental Hygiene Program from George Brown College in 2004. Mariana joined Credit Valley Dental (CVD) in 2001 and has been part of the hygiene team ever since. With over 20 years of hygiene experience, she takes pride in being caring and gentle while providing quality dental care for our CVD patients.
Mariana enjoys good food and wine, traveling, and spending time with her family.


Katie
Katie is a full-time Dental Hygienist. She joined Credit Valley Dental in December of 2018. Katie graduated from the Canadian Institute of Dental Hygiene in 2010, after graduating with a diploma in dental assisting from Niagara College in 2007. Katie is an avid Hamilton Tiger – cats fan and she loves cheering at home games. She also loves playing soccer and plays year-round. Katie is focused on providing current and comfortable care to her patients and making her patients calm in the dental chair.
---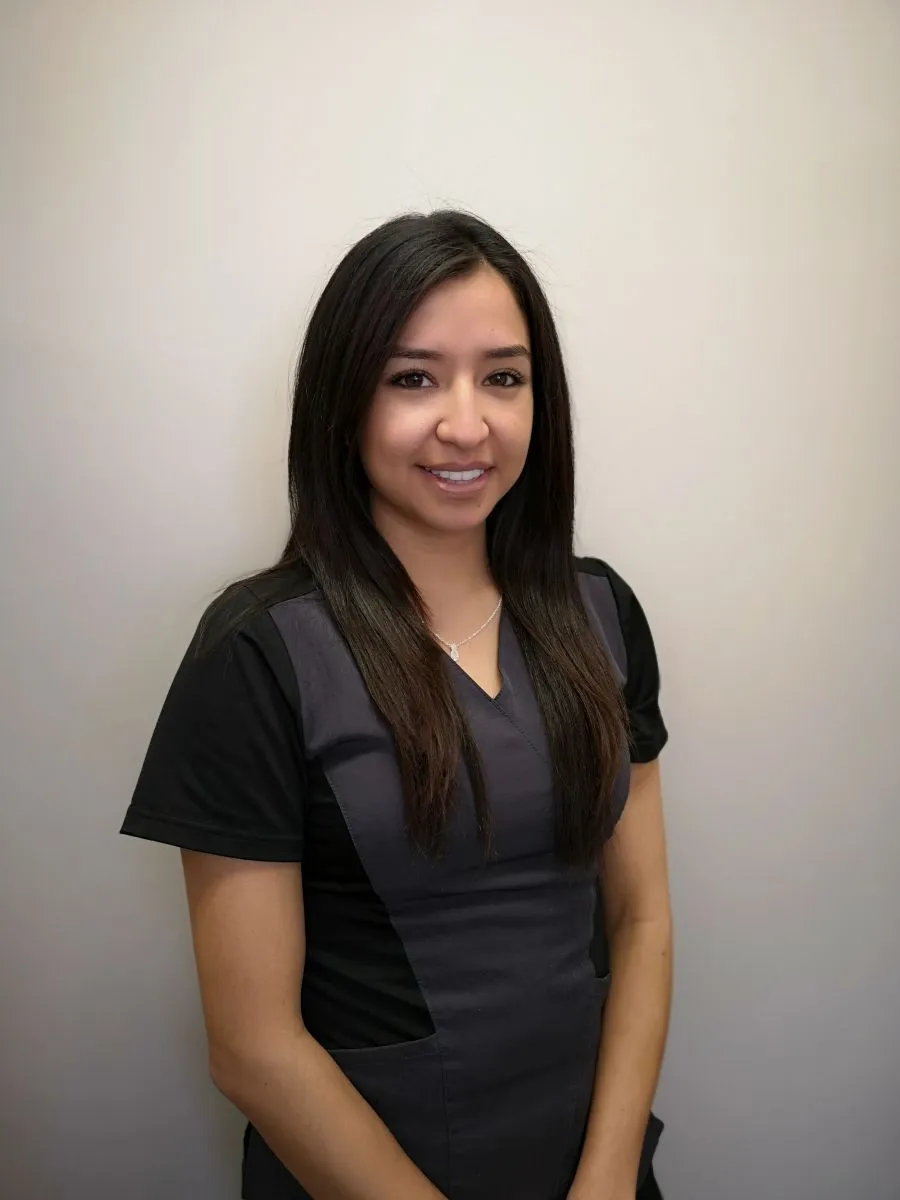 Natalie
Natalie graduated from Medix College and received her Level II Dental Assisting Certification in 2015. Previously she graduated from Medical Administration Program at Sheridan College in 2013. Shortly after, she decided on a career at chairside. Natalie joined Credit Valley Dental in 2016 where she has expanded her professional skills to assist a wide range of procedures. She is a very motivated member at CVD and always tries her best to help other members in need. Outside of work, she likes spending time with her family.
Our local specialists are an important part of our Dental Team. We do many procedures in our office but we do require the services of specialists for certain complex procedures. We are lucky to have skilled private practice specialists to help.
Our List of Specialties Includes:
Endodontics
Anaesthesiologists
Oral Surgeons
Pedodontists
Periodontists
Prosthodontists
Orthodontists
---